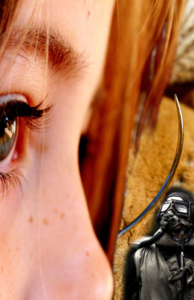 by Andrew Jensen
Fashion Friday by Lise Lisson
As the whole world knows by now, last weekend's wardrobe malfunction on the red carpet was actually a bold fashion statement by Clarinne. The "skin" she flashed was really a daring design by LaPeau Leather. So I, as your fashion reporter, have dedicated this week's article to giving you all the details.
I am pleased to announce, Ladies (and of course, you discerning Gentlemen), that Leather is Back! Cruelty-free and more fashion-conscious than ever!
LaPeau has perfected vat-grown leathers that even the most expensive DNA test couldn't tell from traditional sources. And their growing methods have made it possible to have seams only where fashion demands, not where nature dictates. What progress!
Now it is morally possible to have a Bomber Jacket made with the skin of a real bomber! If you have any lingering ethical concerns, the staff at LaPeau will show you the waiver from the bomber himself, proving that only a small patch of skin was taken, with proper anaesthetic and medical supervision, and then grown to make your jacket. They even have copies of the bomber's military records, so you can see whether your jacket comes from a pilot, a navigator, or the bombardier himself. All are guaranteed to have served on at least one bombing run.
And if it's the terrorist type of bomber jacket you want, well, that's available too, complete with proof of conviction. How edgy is that?
If you are into other Prison Chic, there are plenty of choices available. You can even add authentic tattoos from LaPeau's extensive catalogue, arranged to suit your personal style. You can wear these fashions, comfortable in the knowledge that no one had to be executed for you to wear their leather. My, how times have changed!
Other companies have released extensive fashion leather lines as well. If you prefer an all-natural look, JS Leathers lets you select from shades and tones that reflect every continent and ethnic group. And don't worry, the lighter ones have all been UV stabilized. As president Jonathan S says: "Once we've tanned them, even the sun is powerless."
Speaking of the prez, his Jonathan Signature Line is a sentimental trip to his homeland of Ireland. All of the items in this line are handmade from the finest leathers available from young Gingers, complete with a generous helping of those adorable freckles. Ladies, I've tried the gloves, and they are to die for! Nothing softer has ever touched these hands, and that's saying a lot!
"But what about the outfit Clarinne was wearing?" I hear you cry. Naturally I saved the best for last. Her scandalous Leather Lingerie is from LaPeau's Second Skin Collection. It is an exclusive custom line. Every piece must be individually-fitted and certain, ahem, "accessories" have to be individually sampled from the Contributors. But it's worth every penny. The Second Skin Junior line even lets you recapture your lost youth, guilt-free! After all, the parents or legal guardians have signed off, so there's no worry, and no unsightly hair.
So get out there and start wearing these Fashion Forward leathers with pride. They are more than just Cruelty-Free; they are Socially Responsible. You can sleep well, knowing that your purchase has supported the life of someone who has been paid a fair price, by local standards, for their contribution to your style. Of course, if you're in a custom Second Skin you may not get much sleep at all, but that's between you and someone special!
Fashion Friday by Lise Lisson is a weekly syndicated column of fashion advice. We are pleased to bring Lise's avant-garde fashion sense to our readers, but we cannot guarantee local availability of the fashions she reviews.
~~~
About the Creators
Andrew Jensen lives in the Ottawa Valley, a rural area near Ottawa, Ontario. He writes Science Fiction when he's not busy doing clergy stuff. Yes, he's a minister. If you think clergy shouldn't be writing this stuff, check out "A Modest Proposal" by Jonathan Swift, the inspiration for this piece. Swift was also clergy. So there.
Andrew has short stories published in Midnight Zoo magazine, The Flash Fiction Press, and The Lorelei Signal. Others should be out by the end of 2017 in Triptych Tales Vol. 2 and Abyss & Apex magazine. He also has a book of religious humour: God: the Greatest User of Capital Letters, published by Wood Lake Books.
World's Shortest Creator Interview
Q: The robot overlords have gifted you with the choice of one cybernetic module that will make one of your existing skills or traits all bionic and stuff. What do you choose to buff up, and what would be the unexpected plot twist?
A: Bionic eyes, definitely! I remember the Six Million Dollar Man. At least I could ditch the corrective lenses. Maybe not the X-Ray feature though (Col. Steve Austin never had that, but hey, the Robot Overlords could manage an upgrade by now). If it activated while I was preaching, that would be an embarrassing plot twist. It would really throw me off whatever I was saying in the sermon.
Q: If, due to some very poor logistics, you had to survive several days in some random tropical wilderness, what would you do to find food, and what species would your imaginary companion be?
A: I would arrange for those logistics to land me in some tropical space with bananas. I've never heard of toxic bananas, so I wouldn't have to find some unsuspecting person to test the food on. My imaginary companion would have to be a monkey, to get the bananas for me.
About the Artists
Couleur, Skitterphoto, and Pexels are visual artists on Pixabay.
Our very own D Chang is a designer and game writer from Austin, Texas. His short fiction has appeared in Avast, Ye Airships! and the Cryptopolis science fiction anthology. He does the Space Squid cover designs and other squid stuff.
About the Sponsor
This free Squid story was brought to you by Rex Rogue and the League of Teenage Supervillains, a new novel by C. H. Aalberry. Any idiot with superpowers can be a hero, but only a genius like Rex Rogue can take on the world's superheroes with nothing more than his cutting wits and an army of super–powered minions, mad scientists and lawyers. Superheroes beware, because Rex and his League of Teenage Supervillains would rather steal the day than save it!